It's that time again!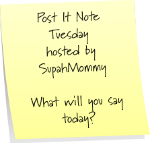 *
*BP planning duties are outlined in the unofficial MOH handbook... I've never attended a BP or planned one, but I thought this needed clarification because it sounded semantically like it was for me. It's not.
*My friend says sometimes when she puts the iPhone up to her face to call, there will be contact with her cheek and the phone and the phone will decide to call another person.
Shoot, I think I have entirely too much text in here for a PINT post... I'm not supposed to explain these, am I? I promise next week will be better.